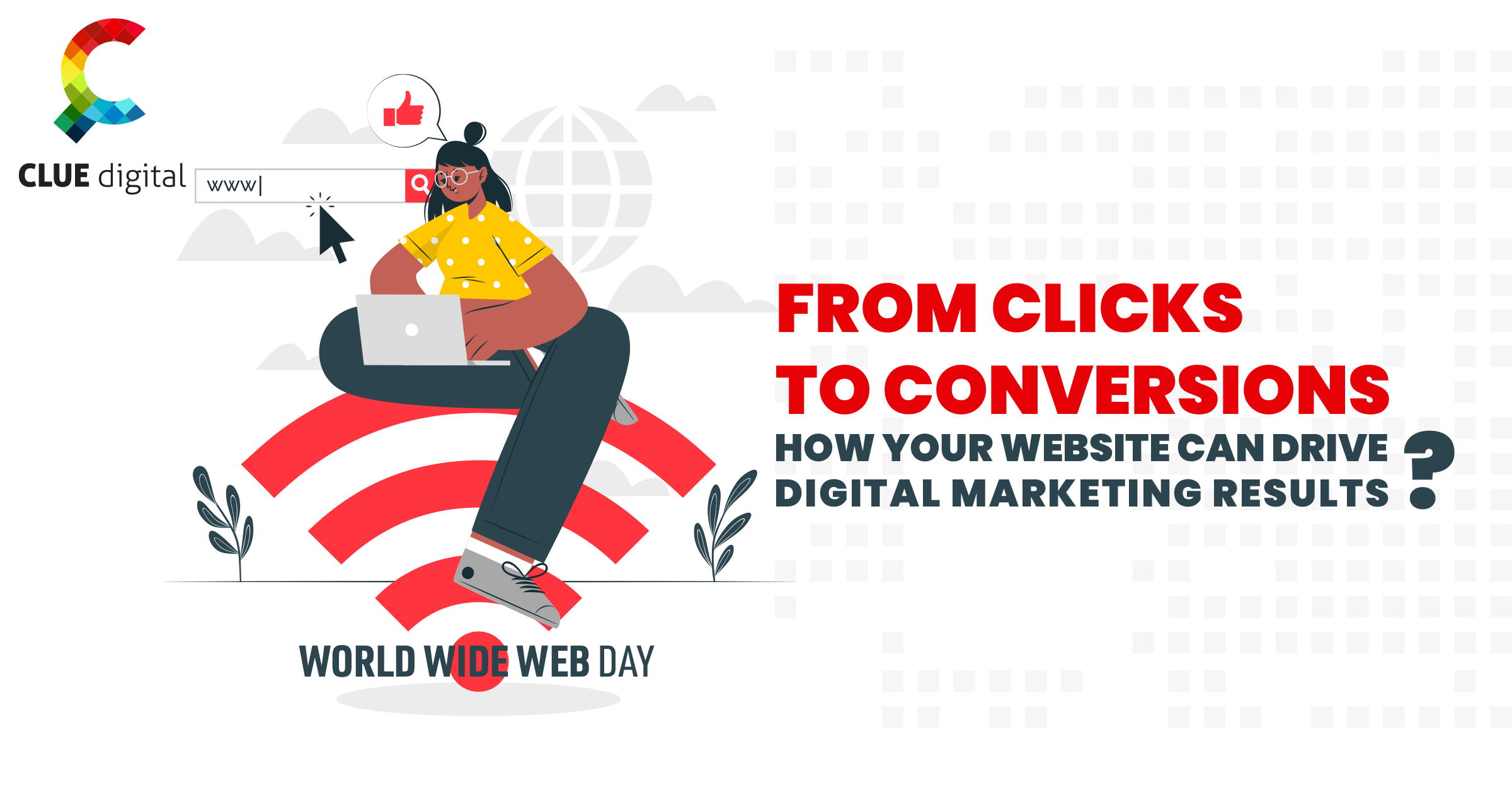 How your website can drive digital marketing results?
Why Websites are vital for digital marketing success?
As we are celebrating World Wide Web Day, Let's check how the web is important for digital marketing.
The web has become an integral part of our daily lives, and it has also become a critical tool in the world of digital marketing.
The Internet has changed the way businesses promote their products and services, and it has opened up many new opportunities for reaching potential customers.
A Website's Role in Digital Marketing:
1- Improves credibility
The main reason to have a company website is to enhance the credibility of your business. In any case, there are several businesses offering the same products or services as yours in the market. An attractive, well-designed website is the best way to stand apart from the competition. An effective website has a robust online presence and communicates quality information to your clients.
Not having a website poses questions about a business's legitimacy. Customers expect a legitimate business to have a robust online presence and social media accounts. A website in digital marketing strategy is the face of your business, builds the first impression, and builds credibility and trust in the minds of customers.
2- A website with quality content generates many leads
People do not like spending money easily. Since there is a lot of competition in every niche, people check the reviews or ratings before they purchase a product or service. Since people search for information online, the website needs to contain articles covering common topics or misconceptions about your business.
With time, users share your website and sign up for your articles if they find the information useful. Connecting base with your clients via email is handy. Discounts, along with offers, can be communicated via email, and the conversion of prospects to clients is high.
3- Customer experience improves
A business receives simple calls from prospective customers enquiring about their hours of operation, office address, etc. Sometimes, your staff will not have the time to attend the calls. This may make a customer unhappy, and you may lose out on a prospect. Answering a lot of calls could hamper the staff's productivity as a lot of time is wasted in attending calls.
A quality website can increase productivity by reducing the number of calls attended. So as to maximize customer experience, businesses are known to create web applications with dynamic user interfaces. Various forms of engagement, such as surveys, quizzes, or branded games, can establish connections with customers in a better way.
4- The business is visible globally with the help of websites
Provided you have an internet connection; a website can be accessed from any remote corner of the world. So, people can reach out to your business and understand your product offerings. It is easy for marketing if you are opening a new business or shifting to a new place.
You just need to incorporate the website address in pamphlets and brochures, so interested people can reach your site and contact you. Make sure that the website is user-friendly and organized in sections. On the website blog, you can update your business address, showcasing your online presence at all times.
5- Attracts organic traffic
If you have gone on to develop an attractive website with numerous search engine optimization techniques, there is a high possibility that your website will rank high in Google search rankings.
Ranking high on the search engine means that people will be able to find your product or service on top when they are searching for similar products or services. You just need to visit the website and obtain information. This provides you with an opportunity to increase your customer base.
Just before going to the conclusion, let's highlight some essential web design statistics you should know:
1. 32% of small businesses already have a mobile app.
2. 42% of small businesses plan to build one in the future.
3. 75% of users judge a business's credibility based on its website's design.
4. 42% of people will leave a website because of poor functionality.
5. When looking at a website for the first time, 38% of consumers look at a page's layout or navigational links.
CONCLUSION :
The importance of websites in digital marketing cannot be ignored. If you do not have a website, it would be difficult to reach prospective customers. A website can help a business, and A business trying to make a name for itself in the modern business needs to have a website. Develop a professional website for your business, and you can optimize it based on your business requirements.
Article by Shahinaz Adel
Project manager at CLUE digital