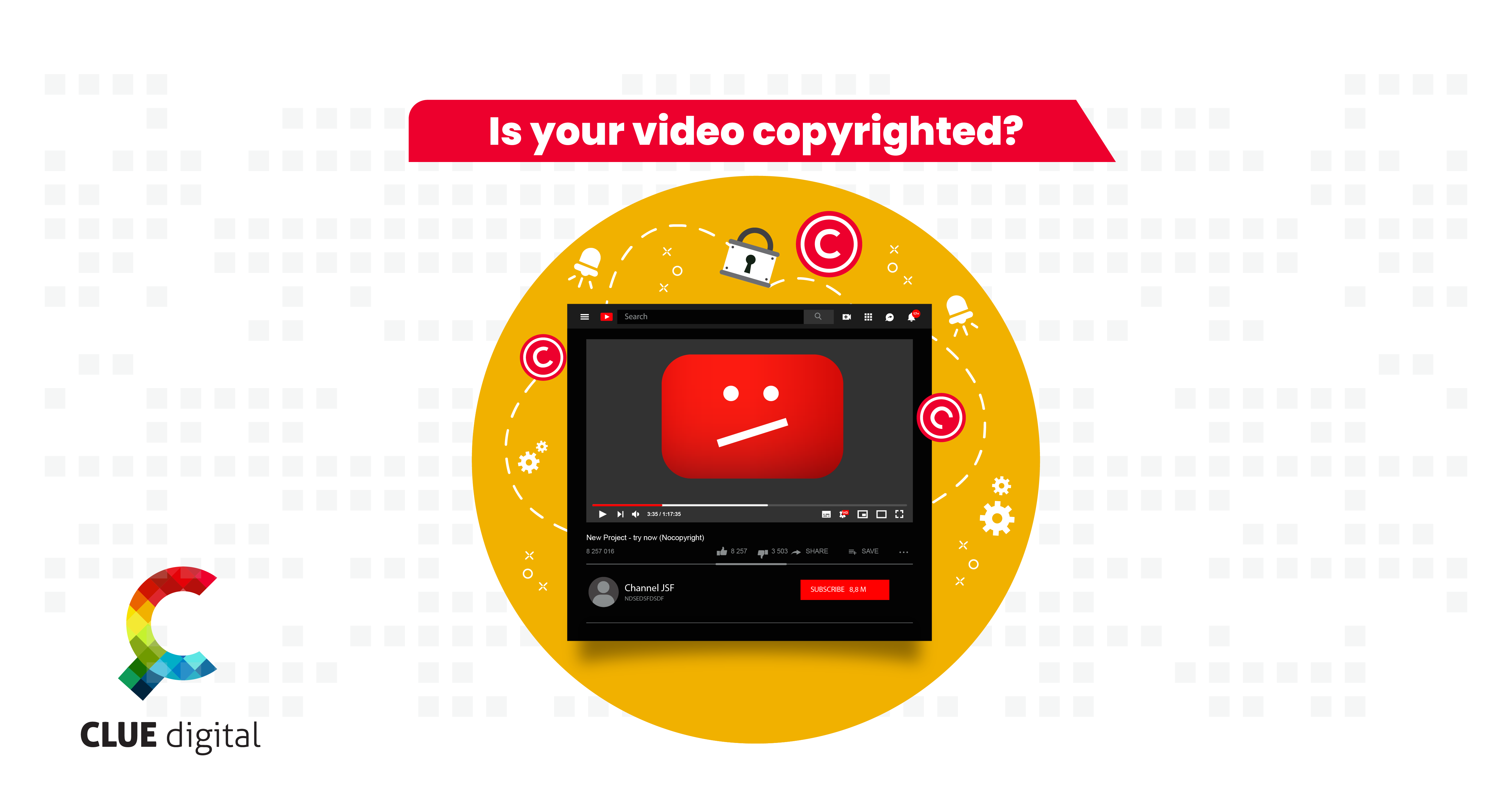 Is Your Video Copyrighted?
How Do You Know if a Video Is Copyrighted?
Today it's the video era and all businesses use video production Whether individual or cooperate, we all use videos with background music.
All videos use musical background to enrich user experience, clientele and, mainly increase sales.
However, before you start using any background music in one of your videos you should check if there are any copyrights with this music track or song.
And that leads us to three main questions:
– What is copyright?
– How Do You Know if a Video Is Copyrighted?
– how to avoid copyright claims?
What is copyright? ©
A copyright is a type of intellectual property that gives its owner the exclusive right to copy and distribute a creative work, usually for a limited time. The creative work may be in a literary, artistic, educational, or musical form.
So, is this mean that most all musical works are copyrighted?
Almost right but you can also know if a song is copyrighted or not:
YouTube is the answer for the easiest way, YouTube is the most popular video hosting website globally.
Because YouTube is where the vast majority of music tracks are uploaded that have been created for decades.
YouTube committed to complying with the legality when it comes to music copyrights.
As YouTube said "We have invested millions of dollars to develop a Copyright Management Suite designed to balance the needs of the entire ecosystem. We work with rightsholders and Creators of all types to match them to the appropriate features based on their specific needs and resources."
YouTube has created its own Copyright management tools are designed for different types of creators, from occasional uploaders to established media companies.
– The content ID tool
– The Copyright Match Tool
The content ID tool lets Copyright owners easily identify and manage their content on YouTube. Videos uploaded to YouTube are scanned against a database of files that have been submitted to us by content owners.
The Copyright Match Tool can automatically identify videos that are matches or potential matches of other videos on YouTube.
So, How Do You Know If a Video Is Copyrighted?
You can start with YouTube search bar; when you search for a video on YouTube and it contains copyrighted music, one way to recognize it is to go to the video description.
By default, the platform adds a few lines of information about the music tracks heard in the video.
Something similar to this: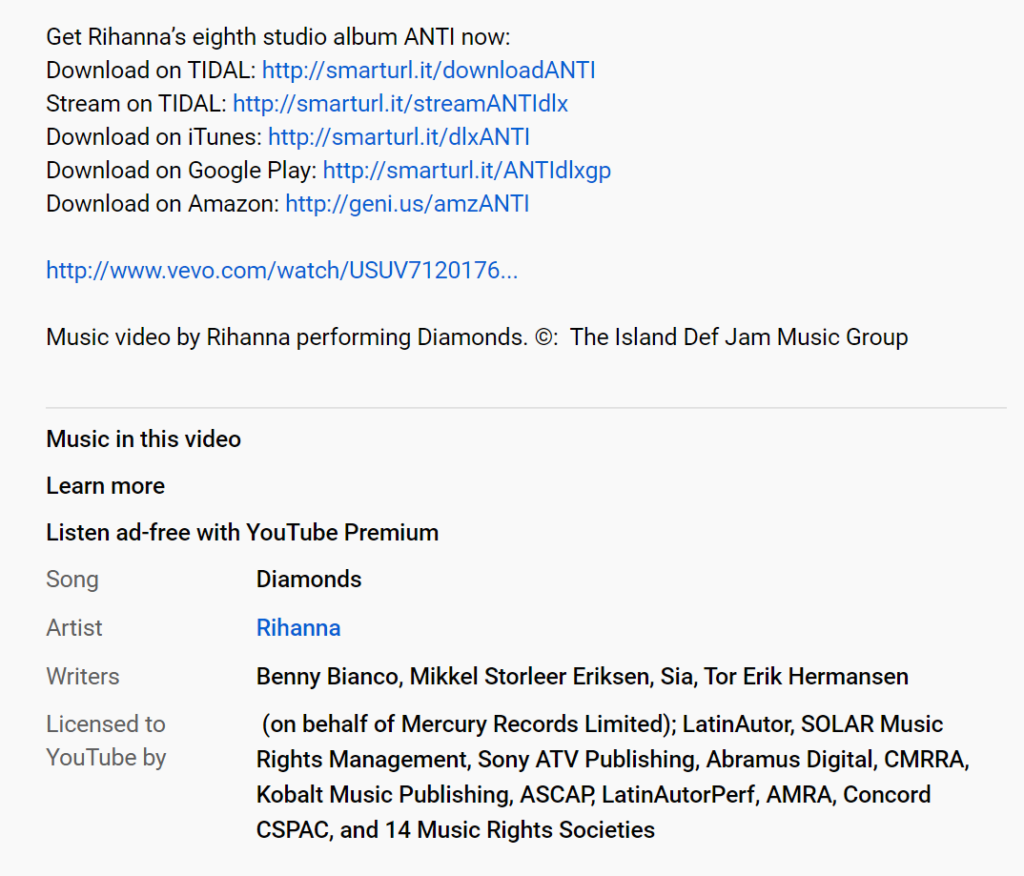 So, if your search ends up with a song or music track, and similar information appears in the description, there is no doubt that song is copyrighted.
Another way to detect if a song or piece of music track in your project is copyrighted by uploading a draft video to Youtube, when you upload the draft video youtube will check it for copyrights, same as this: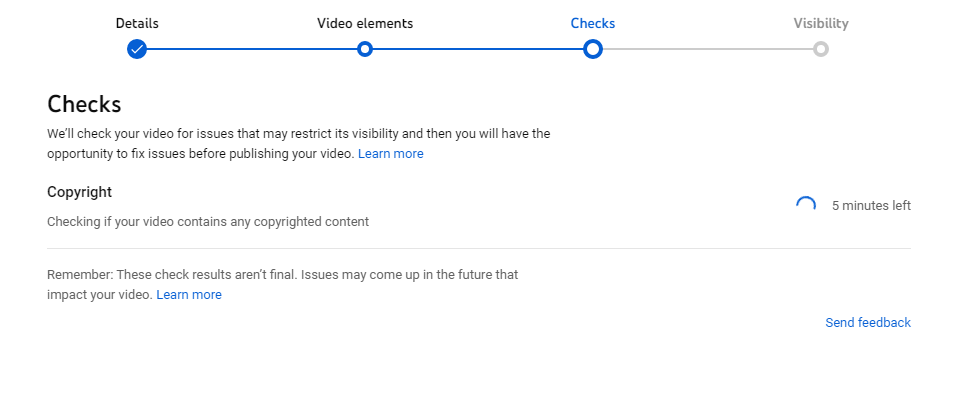 How to avoid copyright claims?
As we just explained above, in order to avoid strikes from YouTube, our recommendation here is to upload it in private or as a draft to check for copyrights.
In this way, you will not have to render the original video over and over again with each track you want to know if it's copyrighted, and therefore, you will save a lot of time and effort.
Once you upload the video privately with the soundtrack, half of the work is done.
The other half will be taken care of by the Content ID algorithm, which will quickly identify if the song is copyrighted.
Another way to get free music on YouTube: go to YouTube Studio > visit Audio Library > find related audio tracks for your video.
If you are curious to find free copyright music, check below websites:
Epidemic Sound
envato elements
Artlist
audiio
Finally, music copyright is an element that you should not overlook under any circumstances if you do not want to face serious legal problems or huge financial penalties.
Written by Omar Haridy