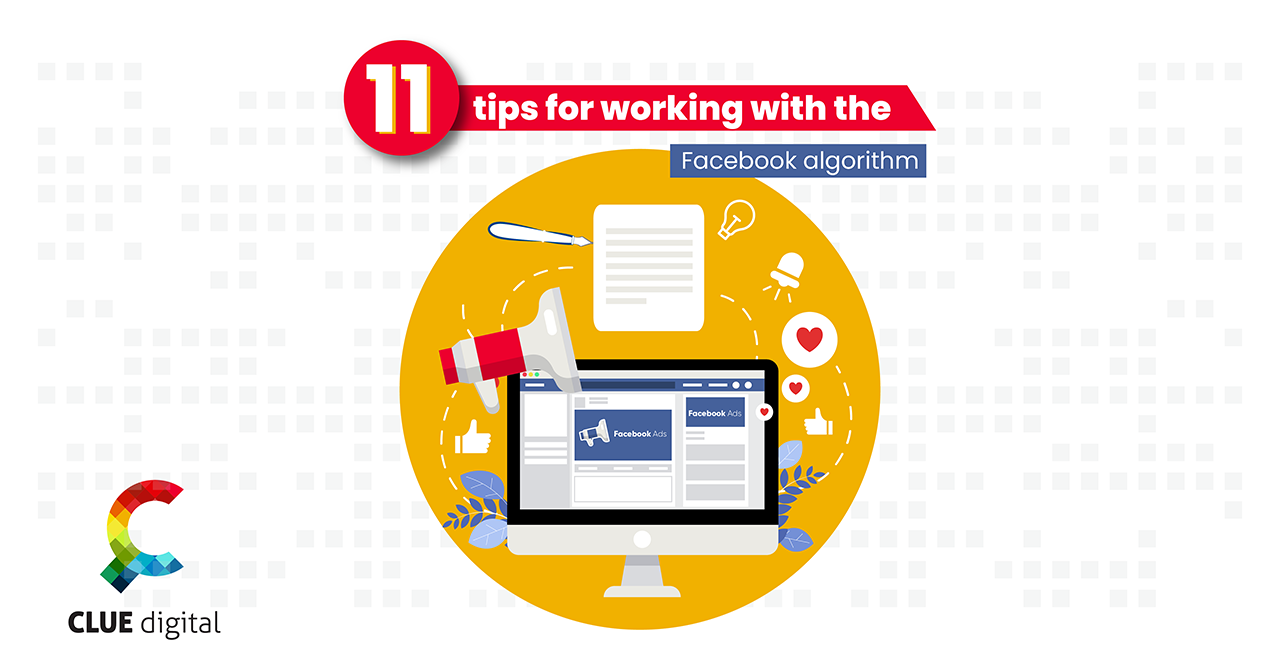 11 Tips for working with the Facebook algorithm
As mentioned in the previous article, the Facebook algorithm controls the ordering and presentation of posts, so users see what is most relevant to them. In other words, content is not published chronologically, posts and ads are presented based on what Facebook sees as relevant to the user. This algorithm panics most marketers. However, algorithm can be adapted and outsmarted by understanding it and following the below tips.
Tip 1: Focus on your audience
Your content should always be relevant to your core audience — the people you want to build a community around. Reply to their comments and messages. Not responding to a person engaging with your brand is throwing away the opportunity to foster a relationship with that person (one that could lead to future organic engagement and even conversions).
Tip 2: Be a conversation starter
Facebook's News Feed algorithm favors content that fosters positive interactions between your followers and others. This tip comes from Facebook itself. Apparently, if a post has triggered a lot of conversation among a user's friends, the algorithm shows that post to the user again. The algorithm values content that people want to share and discuss with their friends.
Tip 3: Get reactions over likes
Now that reactions are an option, they seem to carry more weight than likes alone. To trigger reactions from your audience, try to inspire emotion with your content. For the last few years, the algorithm has weighed reaction buttons more heavily than a simple Like. So, target emotional reactions in your posts: love, caring, laughter, sadness, anger.
Tip 4: Post when your audience is online
The newest posts are still the most likely to be at the top of the news feed. Your audience has the best chance of seeing and engaging with your content if it hits the top of their Facebook timeline while they're online. This is why you should check your analytics to find out the optimal posting times for your audience. Make sure you check this frequently, as Facebook metrics are rarely stagnant
Tip 5: Skip the algorithm using Facebook Stories
Facebook gets over 500 million daily viewers on Stories and stories aren't part of the Facebook newsfeed, so the algorithm rules don't really apply to them. According to Facebook, they're also effective at driving traffic: 58% of people say they've visited a brand's website for more information after watching a Story.
Tip 6: Go Live on Facebook
Because Live video receives 6x more engagement than regular video. As the Facebook algorithm will show Live Broadcasts that have a good number of viewers and engagement to users with similar interests and behavior. This makes going live on Facebook a fast track to increasing your organic reach.
Tip 7: Become a favorite or let your followers know that they can prioritize your content in their own timelines
Every Facebook user has thirty slots for their favorite Pages and people which get an automatic free pass from the algorithm. There should be a solid reason for people to prioritize your content, whether that's because it's really entertaining, or because it's truly important they stay informed.
Tip 8: Make longform video that people want to watch
The longer you keep people interested, the higher your video post will be scored by the algorithm, and the higher up in the Facebook newsfeed it will appear. The Facebook algorithm scores videos based on watch time and completion rate, which is why you should prioritize keeping eyes on your videos to the very end.
Tip 9: Avoid clickbait or misinformation
Engagement baiting doesn't add value or interaction for users. Stay away from asking people to "please comment, like, and share." Your content should inspire them to engage without having to ask. Facebook penalizes brands who encourage comments, likes, and shares on organic and ad posts.
Tip 10: Push employee advocacy
The algorithm boosts posts from person to person more than from page to person. Your employees have more credibility and authority with the Facebook algorithm than your brand page does. Ask your employees to post about your brand. You can expand your reach this way, building brand awareness amongst your employees' networks.
Tip 11: Boost your best-performing organic content
The new Facebook algorithm values content that performs well organically. So don't waste money behind poor-performing organic content. It will cost you more while offering less in return.
Written by Marwa Medhat